Meet our Caregivers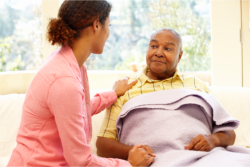 We make it our priority to hire quality care professionals in our team so that we can maintain the quality care that we promise to give to clients. American Home Care & Accreditation Consulting Services LLC facilitates a stringent hiring process that involves:
Reference Checks with Former Employers
Personal Interview
Verification of Licenses or Certificate
CPR and First Aid Certifications
Fit to Work Screening
Drug Testing
Criminal Background Checking
Upon being employed, our staff are required to have Employee-In-Service Training and subjected to ongoing performance assessments. We give great emphasis into keeping competent employees because it is the one effective way to provide exceptional care to your family.
To meet our staff personally, please call 614-446-6060 and set an appointment.